If July felt horrendously hot, that's because it was.
NASA and the National Oceanic and Atmospheric Administration ― two leading global authorities on climate ― both say July 2016 was not only the hottest July on record, but the most sizzling month in the history of record-keeping.
NOAA on Wednesday said July's global average temperature was 62.01 degrees, 1.57 degrees above the 20th-century average. NASA, which uses a slightly different methodology, said Monday the average global temperature in July was 1.51 degrees above average. Both agencies pegged July as the hottest month since monitoring began in 1880.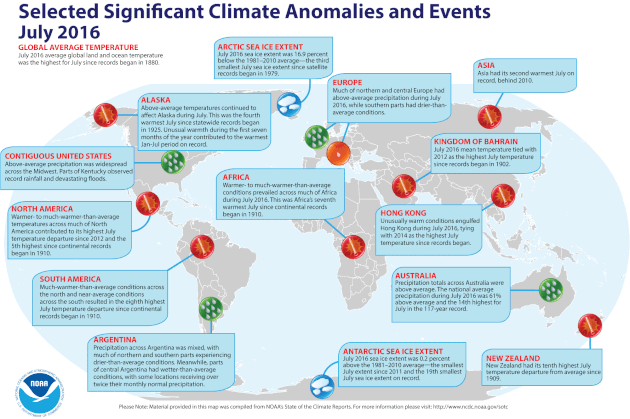 The record continues a global hot streak that scientists have linked to global warming, with average temperatures continuing to climb as extreme weather events occur more frequently. The July data underscores the fact that man's role in climate change is "no longer subtle," said Michael Mann, a climate scientist at Pennsylvania State University.
"We are seeing them play out in the daily headlines, and this is yet the latest example," Mann told HuffPost in an email.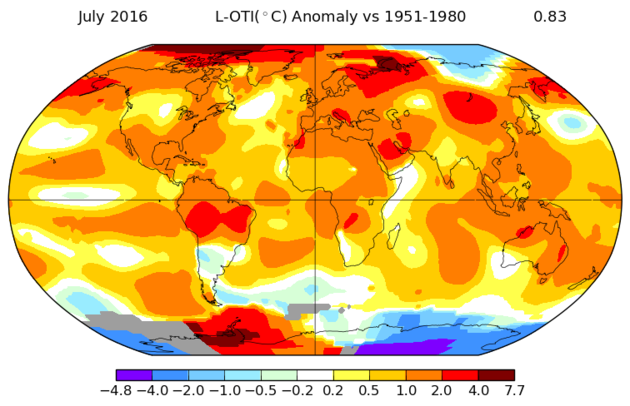 July's high topples the previous record set in July 2015. The month of July, when the seasonal temperature cycle peaks in the Northern Hemisphere, usually sees the highest global temperatures, according to NASA.
NOAA said last month marks the 15th month in a row in which global heat records have been broken. That continues the longest streak of record-breaking temperatures since reporting began.
NASA, which analyzes weather data from from 6,300 locations around the world, considers July 2016 to be the 10th consecutive record-setting month.
By either tally, the trend is disturbing and has no end in sight.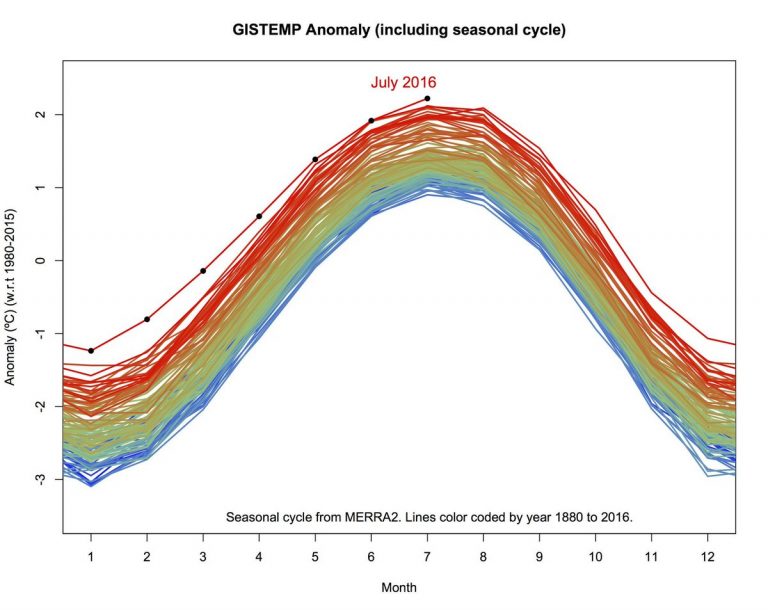 With global temperatures between 1.62 degrees and 1.8 degrees Fahrenheit above historic averages, 2015 easily topped 2014 as the Earth's hottest year in recorded history.
An international climate report described as Earth's "annual physical" this month found that a devastating dose of long-term climate change combined with a strong El Niño in 2015 left seemingly every other major climate record on the books shattered.
Gavin Schmidt, director of NASA's Goddard Institute for Space Studies, said in a statement that it "appears almost a certainty" that 2016 will go down as the warmest year on record.
Given that and the fact that July is usually the hottest month of the year, this record isn't too surprising, Kevin Trenberth, a distinguished senior scientist at the National Center for Atmospheric Research, said in an email to HuffPost.
Perhaps most concerning, Georgia Tech climate scientist Kim Cobb told The Associated Press, is that "global temperatures continue to warm even as a record-breaking El Nino event has finally released its grip."
El Niño, a phenomenon highlighted by warmer-than-usual sea surface temperatures in the equatorial Pacific, is capable of changing weather around the globe. Last year's was "one of the strongest El Niño events the globe has experienced since at least 1950," according to a NOAA-led report.
In 2015, Earth experienced declining global ice and snow cover, harmful effects on Arctic animal and fish species, widespread coral bleaching and extreme weather events, including a record-breaking cyclone season, flooding, severe droughts and fires.
Rather predictably, 2016 is off to a hellish start with extreme weather events, including wildfires in California and disastrous flooding in West Virginia, Texas and ― the latest ― Louisiana.
"[A] key message is all of the other events associated with this around the world, including especially the Louisiana floods," Trenberth said.
Flooding that powerful is an example of how a hotter atmosphere turns ordinary weather events into more extreme ones, he explained.
"For every 1 degree Fahrenheit increase in temperature, the atmosphere can hold about 4 percent more moisture," creating more intense storms and flooding, he told HuffPost previously.
"[T]his jump, and this record are both scary reminders how climate change can speed up and really catch society off guard," Jonathan T. Overpeck, the co-director of the Institute of the Environment at the University of Arizona, told HuffPost. "Unusually bad flooding, likely made worse by a warmer atmosphere is in the news, but don't forget that droughts are also being made worse by the warming, as is the risk of the biggest severe wildfires."
Arizona suffered through both record-breaking heat in June and deadly flooding last fall.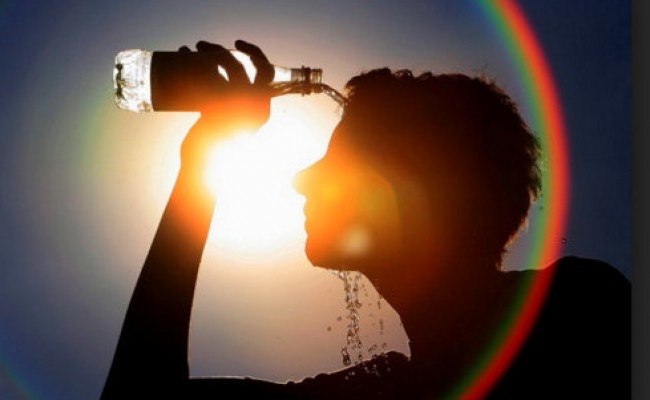 Despite overwhelming scientific evidence, some politicians ― including Rep. Lamar Smith (R-Texas), Sen. Ron Johnson (R-Wis.) and Sen. James Inhofe (R-Okla.) ― continue to scoff at man's role in climate change.
This week, Australian senator-elect Malcolm Roberts, a member of the country's One Nation party, took climate change denial to an extreme, claiming NASA is manipulating data to create an illusion of global warming. Unsurprisingly, he has been blasted on social media.
In response to Roberts' claim, NASA spokeswoman Karen Northon told The Huffington Post that the science is "crystal clear."
"NASA's global temperature analysis uses three independent data sources provided by other agencies. Quality control checks are regularly performed on that data," Northon wrote in an email. "NASA is confident in the quality of this data and stands by previous scientifically-based conclusions regarding global temperatures."
Penn State's Mann said Roberts' comments show "we've truly reached the bottom of the barrel of climate change denial when we have elected representatives attacking NASA, the scientific institution that put us on the moon and engineered the modern space program."
"We've reached a whole new level of conspiratorial thinking," Mann added, "a brave new world of epistemic closure where the more authoritative the confirmation of our scientific understanding, the deeper and wider the conspiracy simply must extend."
This record only further disproves the idea that a "global warming hiatus" proves climate change is a hoax, NOAA public affairs officer Theo Stein tweeted Wednesday morning.
But confronting the industries responsible for the rise of CO2 remains tied up in U.S. politics.
"This is not a drill," Sen. Sheldon Whitehouse (D-R.I.) wrote to HuffPost. "This latest record is a measurement ― not a theory ― and it shows the real-time effects of our carbon pollution on the climate. One wonders how many headlines like this it will take for Republicans to decide addressing climate change is more important than abetting the fossil fuel industry."
Whitehouse has long urged the U.S. to take stronger action on climate change, often going up against climate deniers such as Inhofe.
"July was the hottest month ever recorded," Sen. Bernie Sanders (I-Vt.) tweeted. "When do Republicans stop putting fossil fuel profits over people's health?"
Bill McKibben, an environmentalist and co-founder of 350.org, told HuffPost the changes we're living through right now are ones geologists will someday look back on in awe.
"Awe that we were here to see it happening and didn't lift a finger to stop it," McKibben said.